Trainer Guide
Getting paid
Why do I need to upgrade my Paypal Personal Account to Business Account and how do I do that?
---
A Paypal Business Account is needed to facilitate credit card payments from non-Paypal users. Upgrading a Paypal Personal Account to a Business Account is free and easy. Simply navigate to www.paypal.com/upgrade and follow the steps. If you do not have a business name, simply enter your personal name into the 'business name' field, when required. You will also need to configure your account to accept payments in US Dollars (USD).
---
Why do I need to configure my account to accept US dollars and how do I do that?
---
All transactions processed on Meetfrans will be in US Dollars, this is configured so that your international fans can support you easily. The steps to accepting more than one currency for your paypal account can be found in this short clip. Feel free to reach out to paypal for help in case you encounter difficulties during the process.
---
Start accepting transactions facilitated by Meetfrans
---
To start facilitating payments from Meetfrans, log in to Meetfrans and hover over your profile icon on the top right, click on 'settings', on the left side bar and select 'Payments'. Under step 1/2: click on 'Connect your paypal account', this brings you to the paypal login page. Proceed to log in with your paypal details, and click the 'Grant permissions' button for these specific permissions: Express checkout, Refund, Authorize and capture PayPal transactions, Obtain information about a single transaction, Charge an existing customer based on a prior transaction, Access PayPal contact information. Once your paypal has been connected, proceed to complete step 2/2: Grant permission to charge a transaction fee, by clicking on the 'Grant permission' button. This brings you back to the paypal page. Here, you will be asked to input a credit card, this is because paypal's enhanced security measures for business accounts require this. You may notice a message that says 'Please add a credit or debit card to complete your purchase'. Do not worry, this is not an actual purchase, but for Paypal to verify your identity. After entering your card details and clicking 'pay', Paypal will display a message indicating card linked, simply click 'Agree and continue' to complete the process. Once you navigate back to Meetfrans you will see a message that says 'Hooray, everything is set up!'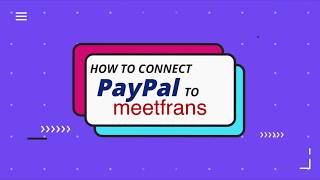 ---
When do I get paid?
---
Once payment has been initiated by a client, a hold charge is placed on the client's credit card.
You will get an email notification of a new transaction that needs to be accepted. If the transaction is not accepted within 3 days, the transaction is cancelled and no money is transferred. Once you accept the transaction, the money after deducting Paypal payment processing fee is transferred to you. Both parties will receive a receipt of the transaction via email.
Upon acceptance, Meetfran's commission fee of 5% is automatically moved from your Paypal account to Meetfran's Paypal account.
At this point, you and the requester can freely discuss details on the platform.
When the transaction is completed, both you and the requester can mark the transaction as completed.
Both parties can review each other after a transaction is completed.
---
What are the fees involved in my transactions?
---
Amount payable to you is subject to prevailing Paypal payment processing fee, dependent on your client's credit card issuance location and your PayPal account's jurisdiction. It is typically 2-5%. Paypal payment processing fee is solely collected by Paypal. Meetfran's commission fee is 5% and is reflected on your dashboard when you connect your PayPal account.
---
How do i get paid?
---
Meetfrans uses Paypal so that both instructors and students get payment protection. There are 2 actions to take, first is to set up your Paypal Business Account and next is to grant permissions for Meetfrans to facilitate your transactions. You should see the following notification upon successful setup:
If you don't have a Paypal account, you can set up a business account for free. If you do have a Paypal account but set to personal, you will need to upgrade it to a Business Account. It is free to upgrade.
---
---
Introduction
What is Meetfrans?
---
Meetfrans is a platform for fitness enthusiasts to book 1-1 sessions with fitness gurus.
---
Why use Meetfrans?
---
Browse instructors, select timing and pay, simple and straightforward ;)
---
How to sign up?
---
click here to sign up! Congratulations! Your account has been created. Simply click on your confirmation email to start.
---
How to Set Up Your Profile?
---
Once you've signed in, hover your cursor over the top right corner of your placeholder profile picture carrying your initials, click on Profile, then 'Edit profile' button or simply 'Share something about yourself' link to get started. Update your Display name, Username, Phone number, Profile picture, About you
---
---
Remedy and refunds
Is the paypal payment processing fee refunded?
---
Unfortunately, Paypal payment processing fee cannot be refunded. Therefore, be sure to communicate well with your student to offer possible remedy with the aim of avoiding a refund situation. Again, it is in your best interest to keep students happy and satisfied in the long run. Open and honest communication will help you avoid or reduce the number of dispute and refund situations.
---
What if my student was unhappy with my service?
---
We encourage you to find a middle ground to resolve any dispute between you and your student, we believe it is in your best interest to keep your students happy in the long run. If you need additional assistance, feel free to contact Meetfrans at hello@meetfrans.com
---
What if a refund has been requested by my supporter?
---
If a resolution could not be reached, there is a possibility of your student seeking a refund. You could issue a refund to your student by logging on to paypal, finding the right transaction and clicking on partial or full refund depending on the situation.
---
MacOS - How to record screen capture for online virtual training?
---
1. For MacOS users, please download and install Kap. 2. Upon starting Kap, a toolbar will appear:
3. To turn on sound recording, go to preferences:
4. Turn on Audio recording and select the input device:
5. To record the whole screen, click on the icon:
6. To start recording, click on the icon:
7. When recording is ongoing, this icon is shown on the MacOS menu bar:
8. To stop recording, click on the icon:
9. Save the video by clicking Export:
---
Windows 10 - How to record screen capture for online virtual training?
---
1. Windows 10 users can use the built in Game Bar app to record their screens. 2. Search for "Xbox Game Bar" or use the shortcut Window Key + G:

3. Upon starting, the game bar main menu should show up:
4. Turn the screen capture menu by clicking the icon:
5. On the screen capture menu:
6. Make sure that the microphone input is turned on:
7. Start recording by clicking on the icon:
8. Stop recording by clicking on the icon:
9. The recording is automatically saved in: This PC > Videos > Captures
---
Recording my training session
---
To prevent abuses and to facilitate remedial situations, recording of training sessions is compulsory. This is to protect both trainers and trainees using Meetfrans.
---
---
Resources
PAR-Q
---
Trainers may want to ask their clients to complete a Physical Activity Readiness Questionnaire (PAR-Q) before starting the training. A reference PAR-Q can be found here.
---
---